Jam Cake!
this time i lucked out and figured i'd document it to share it here!
i baked this for my mom's birthday this past tuesday! we're having trouble with the oven, so perhaps that's why it looks a bit too brown on the top, so taking into consideration that the topping is made out of walnuts, i'm sure if your oven isn't completely lame yours should look a lighter shade.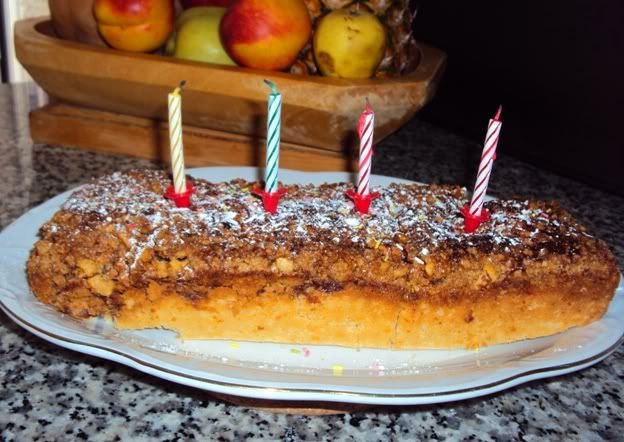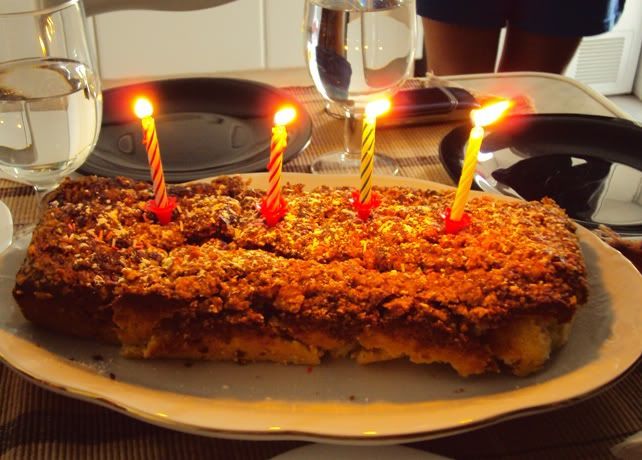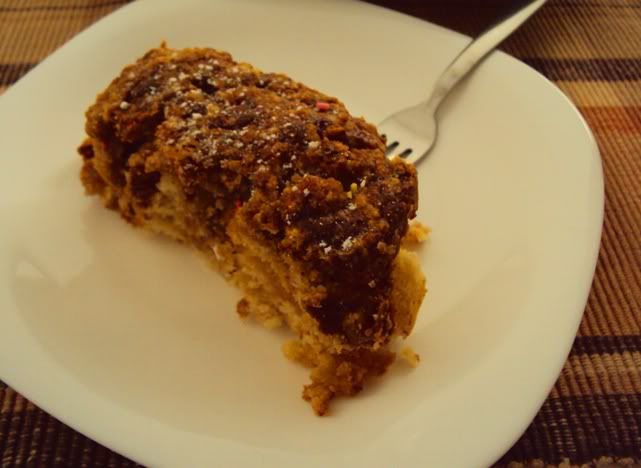 Cake:
* 2 cups sifted all-purpose flour
* 1/2 cup sugar
* 1 tablespoon baking powder
* 1/2 teaspoon salt
* 1/3 cup butter
* 1 egg, beaten
* 3/4 cup milk
* 1/2 cup apricot jam (i used peach!)
* 1/2 cup cherry jam (i used strawberry!)=D

Topping:

* 1/3 cup light brown sugar, firmly packed
* 2 tablespoons flour
* 2 tablespoons butter
* 1/2 cup chopped walnuts or pecans (i used walnuts!)

*mix flour, sugar, baking powder, and salt. use a blender to add the butter to give it a crumbly texture. (the original recipe says to use a pastry blender or food processor, but i don't have either. just remember it has to be crumbly, so no more that a couple minutes if you do use a blender!)

*add egg and milk; stir but just until the dry mixture is moistened.

*spoon batter into a buttered pan and spoon both jams over the batter, then swirl through the batter with a knife. (the recipe calls for a square pan, again due to the problems with the oven, we've been getting the best results bread pan so i used that)

*mix topping ingredients until crumbly and spoon evenly over batter.

*bake at 180° C/400º F for 25 to 30 minutes, or until done! and enjoy! :D

Source!
so i usually don't post here, because as much as i love to bake, 99% of the time everything i make doesn't come out looking pretty!